Christmas Too Soon?
There are two types of people in this world. Those who wish it was Christmas every day and can't wait to start officially celebrating–we'll call them #NeverTooSoonForChristmas.  And then there are those who just want to be thankful with their families over a good meal before they have to start figuring out what gifts they need to buy for them. Let's call them #WaitTilAfterThanksgiving.
Let's take a look at both teams and see how they stack up.
(Full disclosure before you continue reading, I'm completely obsessed with my mom's Thanksgiving turkey and love tracing my hands to make construction paper gobblers, so this article may be a little one-sided. If you rock a Christmas sweater in October, I won't judge you. But I won't try to borrow it from you until December 1. ) 
Team
#
Christmas
Music
In
October
Elmo would definitely be OK singing Jingle Bells in July. He once made a wish that it would be Christmas every day. And Santa had to break it to him in song why that wasn't a great idea.

Retailers who break out the decorations and Christmas music in October are definitely cool with expanding the season into fall. (Even if there are pumpkins, costumes and trick-or-treat candy for sale one aisle over.)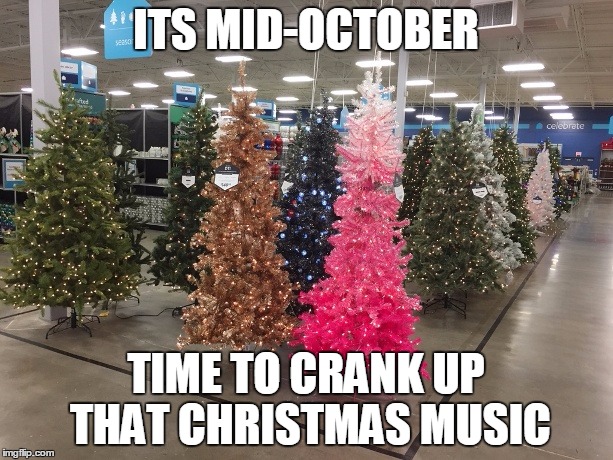 There would be no convincing Buddy that October is too soon to celebrate Christmas. But keep in mind that he does believe he's a magical elf, and he eats syrup on his pasta. I'm just gonna leave that riiiiiight there.
Walt Disney's Fairy Godmother explains how celebrating the winter holiday in October works. Cinderella is no stranger to appreciating the need for a little more time in her life–her carriage turned into a pumpkin right when she needed it most, after all. Plus, she calmly handled evil stepsisters and serenely waited on her prince, proving this is one princess who would definitely have the patience to wait a few weeks for Christmas.
Ned Stark famously said, "Winter is coming." He's also correct that 'Christmas too soon' complaints are out in full force. Keep reading to see a few of our favorites.
Team
#
Let
Me
Enjoy
Thanksgiving
First
And then there are those who feel stressed and rushed by starting Christmas celebrations in October.
When they see those twinkling lights and think about decking the halls before they've had their turkey dinner, they may become a tiny bit enraged. . .
Grumpy cat is definitely grumpy about folks who jump the gun with their holiday celebrating.
And the Thanksgiving turkey definitely has a 'bone to pick' with Santa over being prematurely overshadowed by the jolly old elf.
This cardigan wearing fella sums it up for many of us.
Apparently, singer Brandon Heath wants to keep his holidays separate, too. Enjoy his song about waiting to celebrate Christmas until after Thanksgiving.
WATCH: The Day After Thanksgiving
No matter which team you're on, we hope ALL your holidays are happy ones this season.
Which team are you on? #NeverTooSoonForChristmas or #WaitTilAfterThanksgiving? Let us know in the comments below! (I'd love to see your own creative team #Hashtags, too!) 😉
Comments